Residential Concrete Repair, Resurfacing, Decorative Concrete, Epoxy Coatings and Applications.
Concrete Resurfacing Systems can repair, resurface, color, tint, coat or seal virtually any solid surface with decorative concrete, 100% Epoxy coatings.
Decorative Concrete Resurfacing
Epoxy Floor Coatings for Residential Concrete Repair
Floor Epoxy Coating Systems are recommended for residential garage floors, basements and other interior surfaces to reduce problems associated with "concrete dust" and automotive (petroleum) products. Epoxy coatings are also used as a finish coat over repaired or patched concrete to provide an attractive, uniform finish. Available in choice of colors.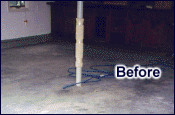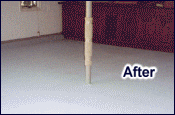 Be sure to check our Concrete Flooring Options pages for more ideas for repairing, restoring or resurfacing new or existing concrete with many optional colors, textures and patterns Concrete Colors Patterns.
Much lower cost when compared to replacement options.
Installation with minimal disturbance and inconvenience.
Applications from 1 inch thick to the thinness of a dime.
Insulation value both cool and warm.
Special non-skid surfaces available.
Compressive, flexural, tensile and shear bond adhesion that is twice the strength of ordinary concrete.
Endless colors, designs, textures and patterns.
Endures northern freeze-thaw cycles and desert heat.
Lasting solution to high-traffic areas.
Trained & Certified Applicators